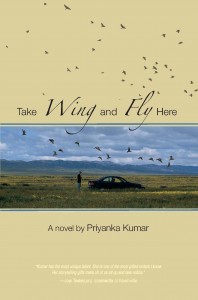 I was delighted by Take Wing and Fly Here, for its natural history and ecological vision, as well as for its human drama. Kumar captures well the combination of affection, curiosity, and ambition in high-intensity birding, and she richly evokes the landscapes. SCOTT RUSSELL SANDERS, author of Earth Works and Hunting for Hope
This engaging novel uses the social backdrop of the diverse, colorful and competitive California birding scene to explore the emotional and dynamic side of human relations and human ambition. You don't need to be a birder to get caught up in the story; be warned you will likely become one before you are through.  PETE DUNNE, Director, Cape May Bird Observatory, author of Tales of a Low-Rent Birder and Pete Dunne on Bird Watching.
"Take Wing and Fly Here" is an articulate, erudite, passionate, compelling read from first page to last. Clearly author Priyanka Kumar is as talented a novelist as she is a writer, director, and producer of documentaries (see "The Song of the Little Road"). A superb read and highly recommended for personal summer reading lists and community library contemporary fiction collections.
THE MIDWEST BOOK REVIEW
Kumar has the most unique talent. She is one of the most gifted writers I know. Her storytelling gifts make all of us sit up and take notice.
JOAN TEWKESBURY, author of Ebba and the Green Dresses of Olivia Gomez in a Time of Conflict and War, screenwriter of Nashville.
Set against the quicksand passions of "Big Year" birding, Priyanka Kumar's characters explore the very wilds of nature and the human heart. Kumar is master of the hunt. Whether hiking out to warbling cowbirds or to see a flock of phalaropes spinning in a pond, we view it all through the spotting scope of her remarkable prose. The poetry of the landscape and the birds become all one song. There is an intelligence and a clear and honest heart at the center of Kumar's writing. This book is an extravagant dessert at the end of a feast.
JAMES RAGAN, author of The World Shouldering I, and Too Long a Solitude.
Priyanka Kumar has written an engaging novel filled with characters who love birds and the great outdoors. Those of us who belong to one or more of Audubon's 450 chapters across the USA will recognize ourselves and others in these colorful and very human characters. JANE ALEXANDER, National Audubon Society Board of Directors
The story, that intertwines unforgettable characters with the management of the oldest birding society in the United States, combines humor and emotion with remarkable descriptions of nature. The prose flows easily, like a bird taking flight. A pure delight to read.
TERESA DOVALPAGE, author of A Girl like Che Guevara, Habanera, and The Astral Plane, Stories of Cuba, the Southwest and Beyond.